DALLA NATURA ITALIANA DUE ALLEATI UTILI PER IL CONTROLLO DEL METABOLISMO LIPIDICO, SENZA EFFETTI INDESIDERATI

302 mg di estratto polifenolico di Mela annurca
– Favorisce la regolazione del metabolismo lipidico 
– Azione antinfiammatoria
– Aiuta a regolare l'assorbimento del glucosio
192 mg di estratto di Olivo tit. 20% oleuropeina
– Aiuta a regolare la pressione arteriosa
– Sostiene il sistema cardio-circolatorio
– Favorisce la regolazione del metabolismo lipidico
Ecco come funziona Melacol e perchè è diverso
Normalmente per ridurre il deposito dei lipidi nelle arterie viene bloccato l'enzima CoA reduttasi, responsabile del deposito di essi;  tuttavia possono insorgere effetti indesiderati, ecco perchè proponiamo un'alternativa provata scientificamente senza effetti indesiderati
 Le procianidine contenute in Melacol vengono rilasciate e assorbite a livello intestinale. 
Le Procianidine n=6 e n=8 contribuiscono a formare delle strutture micellari in grado di inglobare il colesterolo assunto tramite l'alimentazione, impedendone l'assorbimento. 
Le Procianidine dimeriche, alterando la composizione dei sali biliari, diminuiscono la solubilità del colesterolo e ne favoriscono la precipitazione (fino al 90%) e l'eliminazione a livello fecale. 
Le Procianidine B2, invece, una volta assorbite arrivano a livello epatico dove inibiscono la biosintesi del colesterolo endogeno, agendo sulla squalene monossigenasi, enzima chiave di una delle tappe metaboliche della biosintesi del colesterolo.
Ciò determina una riduzione della quantità di colesterolo citosolico endogeno, che induce una maggiore espressione dei recettori per le LDL con conseguente sottrazione di tali lipoproteine dal torrente circolatorio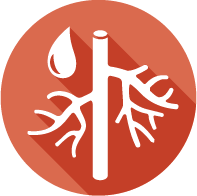 Infine, le Procianidine B2 inducono una maggior espressione di ApoA I, proteina precursore della formazione delle HDL, capaci di drenare dal torrente circolatorio il colesterolo depositato sulle pareti dei vasi sanguigni. 
Inoltre, le procianidine B2 attraverso la loro elevata capacità di legarsi alle LDL ed HDL ed il loro potere antiossidante, riducono fortemente la possibilità di alterazione di queste ultime, riducendone la perdita di funzionalità.
Biosintesi del colesterolo
Preferiamo rispettare e lasciare inalterata la fisiologia dell'organismo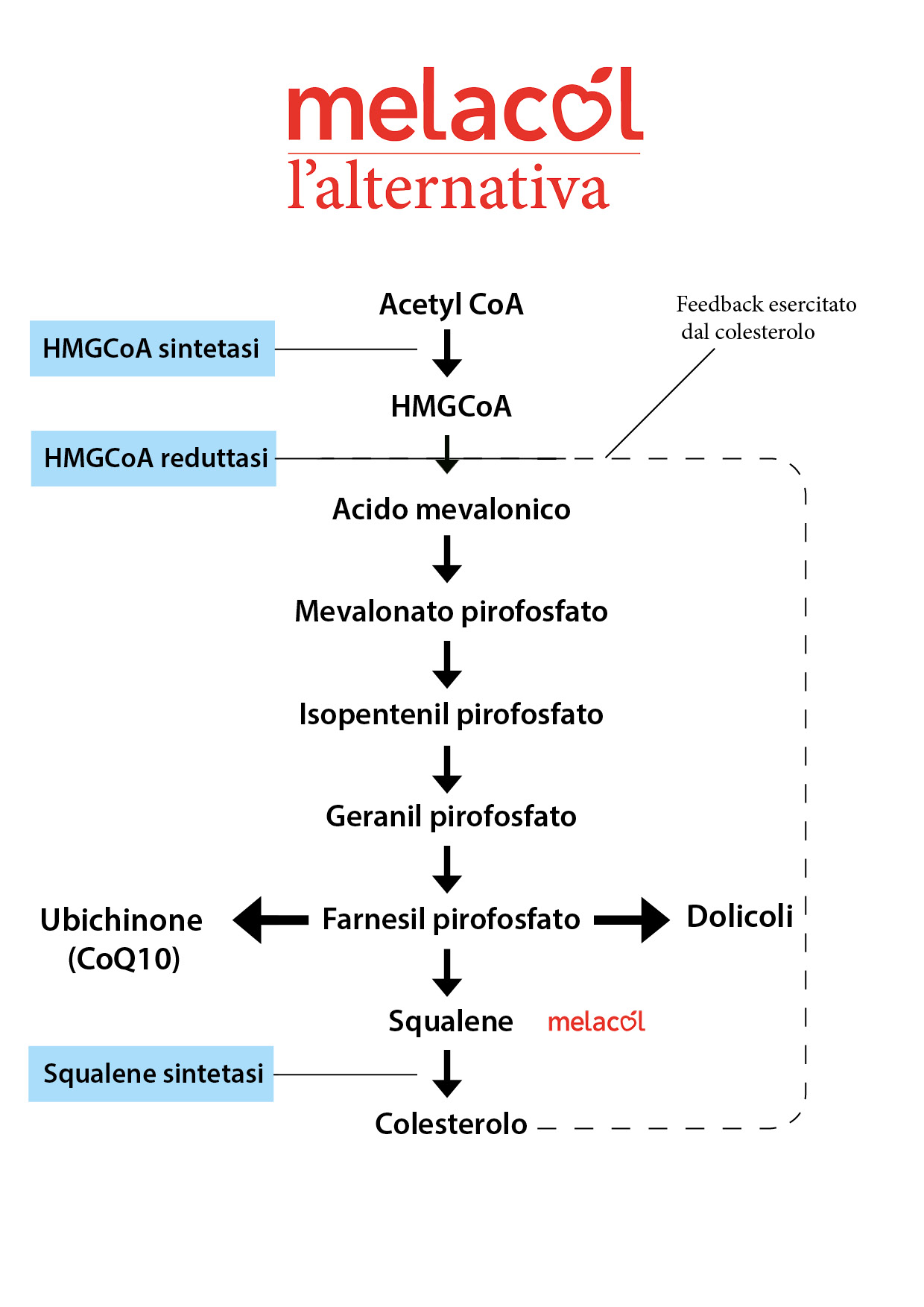 Melacol è diverso perchè lascia inalterata la cascata del colesterolo
 

Studio retrospettivo di tipo osservazionale su pazienti affetti da ipercolesterolemia trattati con MELACOL

 
 

RESPONSABILI

: 
Beniamino Palmieri, Maria Vadalà, Carmen Laurino
Dipartimento Chirurgico, Odontoiatrico e di Scienze Morfologiche con Interesse Trapiantologico, Oncologico e di Medicina Rigenerativa, Università degli Studi di Modena e Reggio Emilia, Modena (MO).
 

Network del Secondo Parere, Modena (MO).

 
Scarica lo studio completo
In sintesti i risultati dello studio osservazionale effettuato su Melacol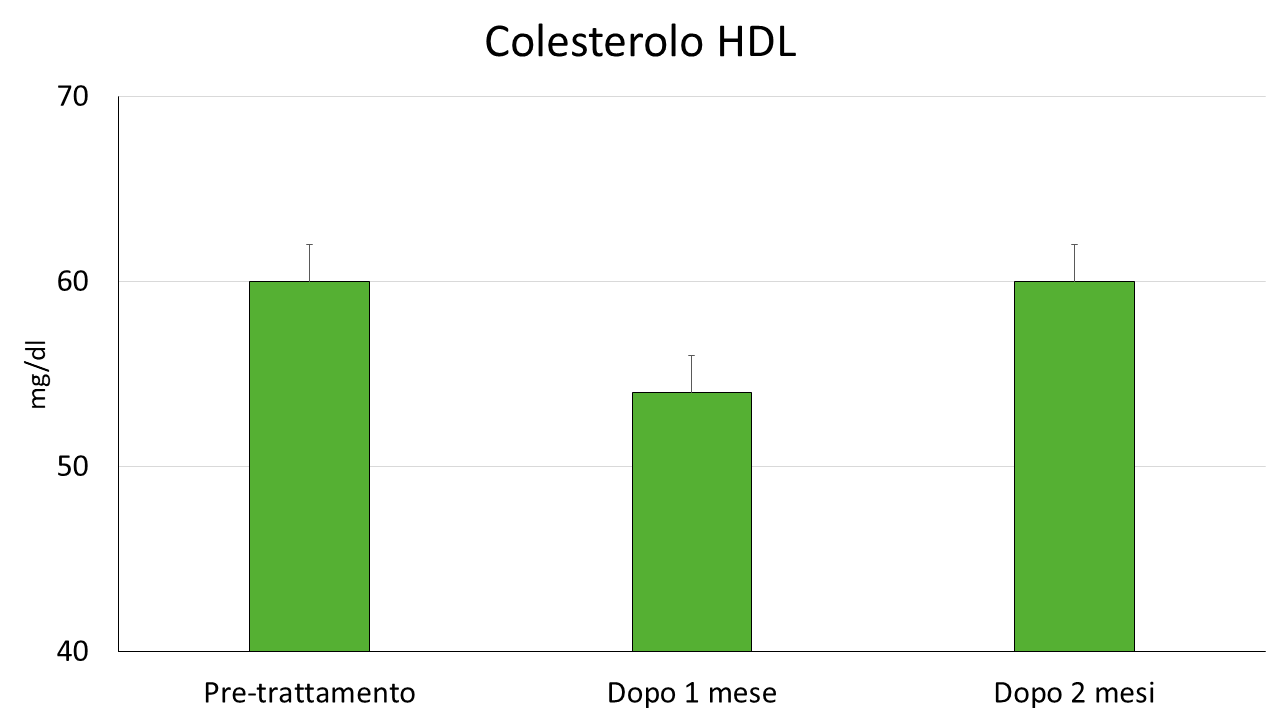 Scarica lo studio completo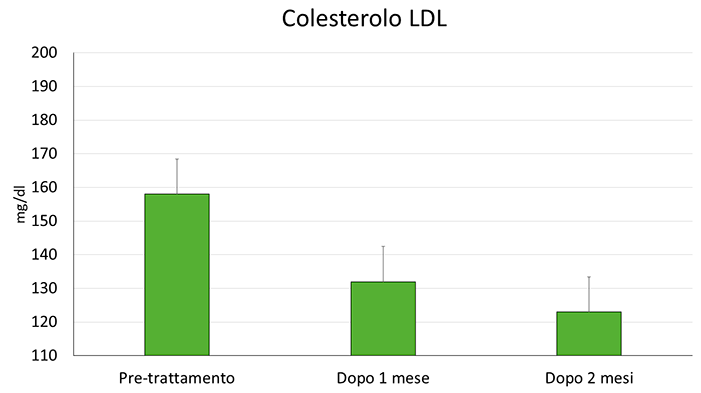 Bibliografia
1.Scheen AJ. [Hypercholesterolemia-related cardiovascular risk: a continuum from a notion ofnormality, intervention threshold and therapeutic objectives]. Rev Med Liege. 1999 Jan;54(1):17-21.
2.Cham BE. Importance of apolipoproteins in lipid metabolism. Chem Biol Interact. 1978Mar;20(3):263-77.
3.Johnson WJ, Phillips MC, Rothblat GH. Lipoproteins and cellular cholesterol homeostasis. SubcellBiochem. 1997;28:235-76.
4.Sisti LG, Dajko M, Campanella P, Shkurti E, Ricciardi W, de Waure C. The effect of multifactoriallifestyle interventions on cardiovascular risk factors: A systematic review and meta-analysis of trialsconducted in the general population and high risk groups. Prev Med. 2017 Dec 29.
5.Carew TE, Koschinsky T, Hayes SB, Steinberg D. A mechanism by which high-density lipoproteinsmay slow the atherogenic process. Lancet. 1976 Jun 19;1(7973):1315-7.
6.Boytsov S, Logunova N, Khomitskaya Y. Suboptimal control of lipid levels: results from the non-interventional Centralized Pan-Russian Survey of the Undertreatment of Hypercholesterolemia II (CEPHEUSII). Cardiovasc Diabetol. 2017 Dec 16;16(1):158.
7.Lemieux I, Lamarche B, Couillard C, Pascot A, Cantin B, Bergeron J, et al. Total cholesterol/HDLcholesterol ratio vs LDL cholesterol/HDL cholesterol ratio as indices of ischemic heart disease risk in men:the Quebec Cardiovascular Study. Arch Intern Med. 2001 Dec 10-24;161(22):2685-92.
8.Djousse L, Arnett DK, Coon H, Province MA, Moore LL, Ellison RC. Fruit and vegetable consumptionand LDL cholesterol: the National Heart, Lung, and Blood Institute Family Heart Study. Am J Clin Nutr. 2004Feb;79(2):213-7.
9.Dragsted LO, Pedersen A, Hermetter A, Basu S, Hansen M, Haren GR, et al. The 6-a-day study:effects of fruit and vegetables on markers of oxidative stress and antioxidative defense in healthynonsmokers. Am J Clin Nutr. 2004 Jun;79(6):1060-72.
10.Lamperi L, Chiuminatto U, Cincinelli A, Galvan P, Giordani E, Lepri L, et al. Polyphenol levels and freeradical scavenging activities of four apple cultivars from integrated and organic farming in different italianareas. J Agric Food Chem. 2008 Aug 13;56(15):6536-46.
11.Tenore GC, Campiglia P, Stiuso P, Ritieni A, Novellino E. Nutraceutical potential of polyphenolicfractions from Annurca apple (M. pumila Miller cv Annurca). Food Chem. 2013 Oct 15;140(4):614-22.
12.Nishizuka T, Fujita Y, Sato Y, Nakano A, Kakino A, Ohshima S, et al. Procyanidins are potentinhibitors of LOX-1: a new player in the French Paradox. Proc Jpn Acad Ser B Phys Biol Sci. 2011;87(3):104-13.
13.Brouns F, Theuwissen E, Adam A, Bell M, Berger A, Mensink RP. Cholesterol-lowering properties ofdifferent pectin types in mildly hyper-cholesterolemic men and women. Eur J Clin Nutr. 2012May;66(5):591-9.
14.Owen RW, Giacosa A, Hull WE, Haubner R, Wurtele G, Spiegelhalder B, et al. Olive-oil consumptionand health: the possible role of antioxidants. Lancet Oncol. 2000 Oct;1:107-12.
15.Visioli F, Poli A, Gall C. Antioxidant and other biological activities of phenols from olives and oliveoil. Med Res Rev. 2002 Jan;22(1):65-75.
16.Merola N, Castillo J, Benavente-Garcia O, Ros G, Nieto G. The Effect of Consumption of Citrus Fruitand Olive Leaf Extract on Lipid Metabolism. Nutrients. 2017 Sep 26;9(10).
17.Palmieri B, Iannitti T, Capone S, Fistetto G, Arisi E. [Second opinion clinic: is the Web BabelSyndrome treatable?]. Clin Ter. 2011;162(6):575-83.
18.Palmieri B, Iannitti T. The Web Babel syndrome. Patient Educ Couns. 2011 Nov;85(2):331-3.
19.Tenore GC, Caruso D, Buonomo G, D'Avino M, Campiglia P, Marinelli L, et al. A Healthy Balance ofPlasma Cholesterol by a Novel Annurca Apple-Based Nutraceutical Formulation: Results of a RandomizedTrial. J Med Food. 2017 Mar;20(3):288-300.
20.Tenore GC, Caruso D, Buonomo G, D'Urso E, D'Avino M, Campiglia P, et al. Annurca (Malus pumilaMiller cv. Annurca) apple as a functional food for the contribution to a healthy balance of plasmacholesterol levels: results of a randomized clinical trial. J Sci Food Agric. 2017 May;97(7):2107-15.
21.Lockyer S, Rowland I, Spencer JPE, Yaqoob P, Stonehouse W. Impact of phenolic-rich olive leafextract on blood pressure, plasma lipids and inflammatory markers: a randomised controlled trial. Eur JNutr. 2017 Jun;56(4):1421-32.
22.Covas MI, Nyyssonen K, Poulsen HE, Kaikkonen J, Zunft HJ, Kiesewetter H, et al. The effect ofpolyphenols in olive oil on heart disease risk factors: a randomized trial. Ann Intern Med. 2006 Sep5;145(5):333-41.
23.Haban P, Klvanova J, Zidekova E, Nagyova A. Dietary supplementation with olive oil leads toimproved lipoprotein spectrum and lower n-6 PUFAs in elderly subjects. Med Sci Monit. 2004Apr;10(4):PI49-54.
DOSAGGIO
1 CAPSULA DUE VOLTE AL GIORNO DURANTE I PASTI 

60 CAPSULE
EAN: 975010253
Sei un Medico o un terapeuta e vuoi saperne di più o desideri essere contattato da un informatore di zona?
compila questo form
via Enrico Fermi, 6 Noceto (Pr)
Tel +39 0521 628498 Fax 0521 6287986